Description
Product Description:
Unleash the power of Webtri, the revolutionary technology that empowers you to create professional websites, funnels, and membership sites effortlessly. With Webtri, you can achieve all of the following and more:
Webtri Features:
– Instant Funnels: Create high-converting page funnels, lead funnels, launch funnels, and webinar funnels with just a few clicks, no coding or design skills required.
– Drag-and-Drop Builder: Utilize the world's most innovative drag-and-drop website builder to edit anything in seconds.
– Payment Integration: Effortlessly monetize your projects globally with integrated payment gateways like PayPal and Stripe.
– 5000+ Templates: Access over 5000 high-converting page templates crafted by experts in 1000 red-hot niches.
– Mobile-Friendly: Craft mobile-friendly websites and landing pages to convert random visitors into happy customers.
– AI-Assisted Creation: Use AI-assisted page creation for any niche or audience.
– Branding: Build your funnels, websites, and membership sites on your own domain and servers to enhance your branding.
– Cost Savings: Say goodbye to monthly expenses on outdated funnel and membership site builders.
– Industry Standard: Create industry-standard funnels and websites to establish multiple passive income streams.
– No Third-Party Dependencies: Manage everything from one central dashboard without relying on third-party services.
– Proprietary Tech: Join the ranks of successful marketers who've made billions by selling high-demand funnel and website creation services to clients.
– Newbie-Friendly: Webtri is 100% easy to use, perfect for newcomers to the industry.
Webtri Benefits:
– Cost-Effective: Get professional websites and funnels at a one-time cost lower than you could ever imagine.
– Total Control: Build your own stunning funnels, websites, and membership sites on your own domain and servers, boosting your brand.
– Rapid Results: Our reliable platform ensures you can start benefiting instantly with ease.
– Tested and Proven: Webtri has been tried and tested to guarantee the fastest results without issues.
– AI Magic: Utilize artificial intelligence to create numerous professional, business-friendly websites and funnels.
– Template Library: Access over 5000 high-converting page templates designed by experts in 1000 red-hot niches, all included.
– Instant Monetization: Create mind-blowing membership sites and funnels without time or financial investment.
– Effortless Editing: Edit anything in a flash using the most advanced drag-and-drop builder.
– Payment Integration: Monetize your websites instantly with PayPal and Stripe integration.
– Cross-Device Compatibility: All websites created work seamlessly on Windows, MacOS, Linux, Chromebook, eliminating any risk.
– Budget-Friendly: Webtri offers impressive capabilities without a huge investment.
– All-in-One: Webtri is an all-in-one platform, so you can sit back and relax.
Included In This Package:
– Webtri Features and Benefits
– Webtri FE (Front End) – $17 Value
– Webtri OTO 1: Unlimited Edition – $37 Value
– Webtri OTO 2: Elite Edition – $97 Value
– Webtri OTO 3: DFY Edition – $67 Value
– Webtri OTO 4: Agency License – $67 Value
– Webtri OTO 5: Reseller – $97 Value ( not included )
– Webtri OTO 6: Whitelabel License – $197 Value
– Total Value: $26,897
Order now and unlock the potential of Webtri for your business. Create stunning websites, funnels, and membership sites with ease and start profiting today!

Frequently Asked Questions
With the agency license, you have the flexibility to create the following types of accounts:
Webtri FE: This allows you to access the primary features of Webtri.
OTO1 Premium: This provides access to premium features and additional functionalities.
OTO2 Unlimited: This offers unlimited access and advanced features.
For a visual reference, you can check out the screenshot below for a detailed overview of the account types and their respective features.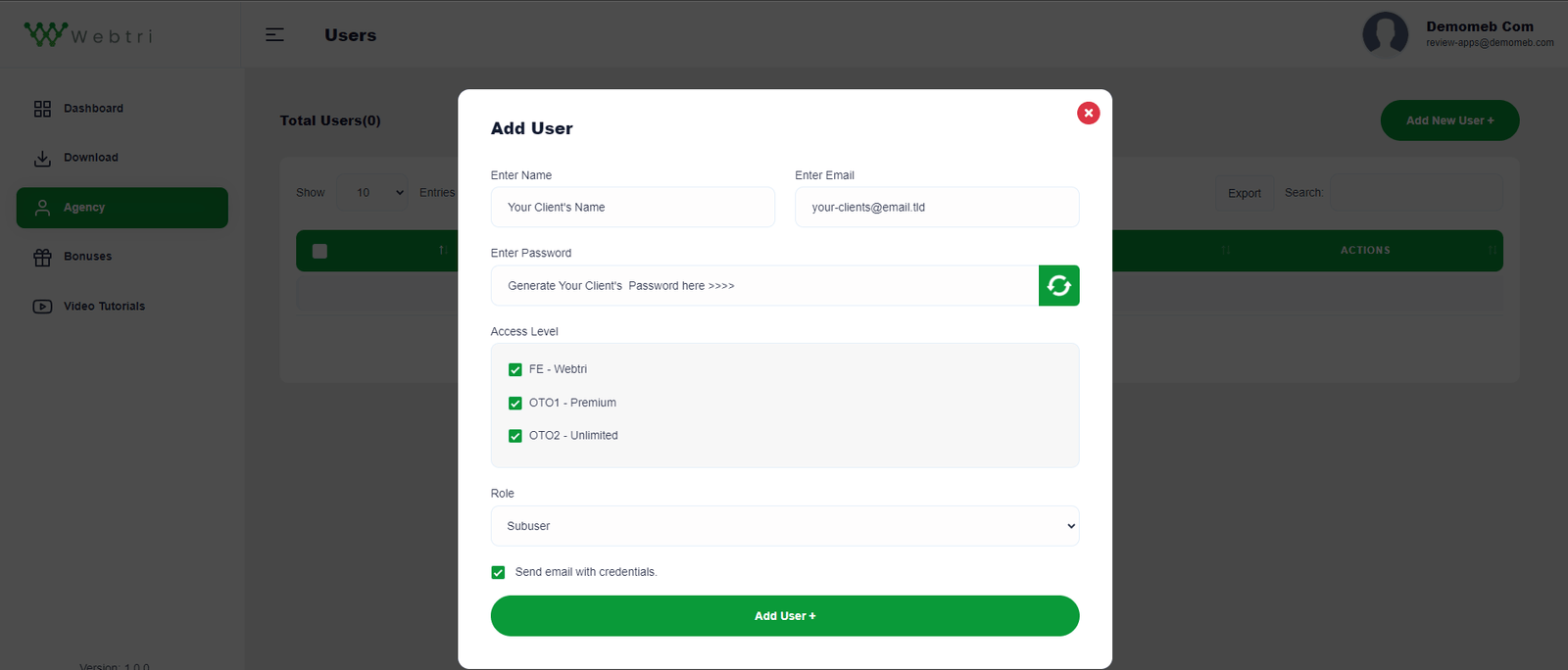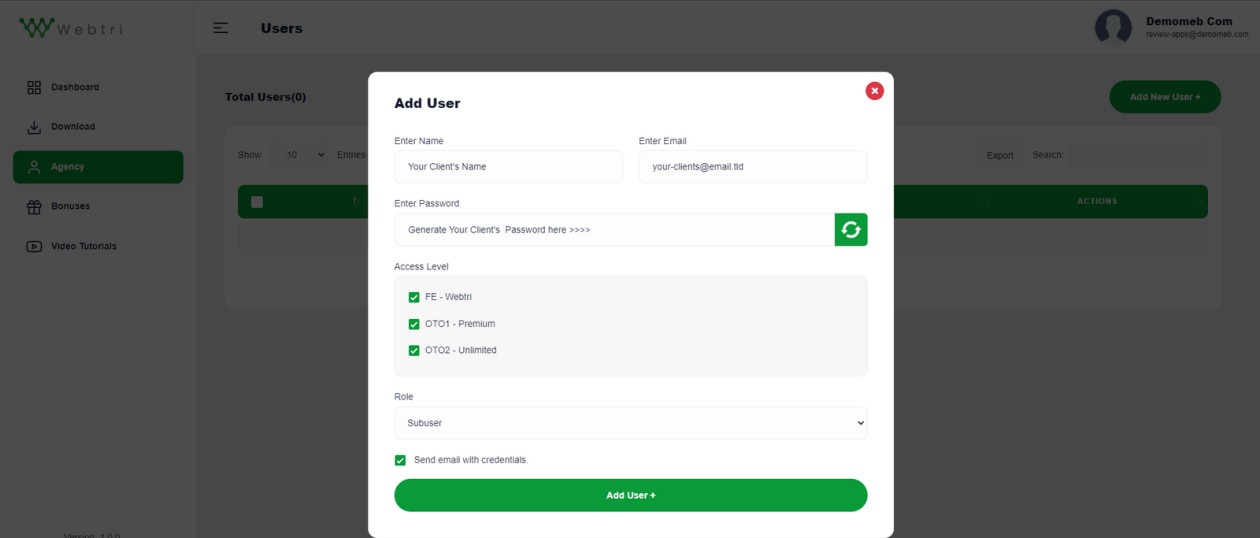 According to the seller, access to the White-label upgrade will be granted 30 days after the completion of the launch. Please mark your calendar or set a reminder to ensure you can take advantage of this upgrade when it becomes available.